With the GMI and GMI-2 each at zero, I have gone to cash.   However, I am 30% invested in mutual funds in my university pension because of trading limits.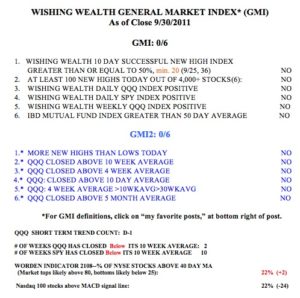 The only glimmer of bullish hope that I see is the fact that the Investor's Intelligence poll of investment advisers still shows more bulls than bears, a very rare occurrence.   The market usually fools the majority of participants.   Everyone is so darn bearish.   This market may be getting ready for a huge bottom to this decline, which is typical of the month of October. The "Sell in May" crowd usually returns around Halloween.
If you take a look at these weekly GMMA charts of the QQQ and SPY, you can see that the shorter term averages (red) are crossing below the longer term averages (blue). The QQQ, which does not contain financial stocks, looks a little stronger than the SPY. Click on charts to enlarge.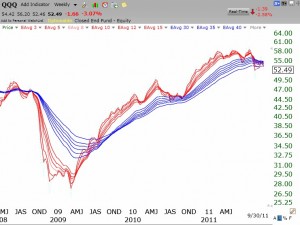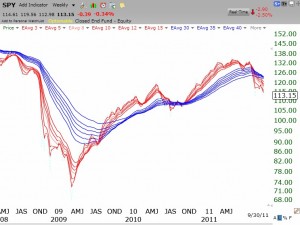 For the moment, the present declines do not look that bad compared with the decline in 2008. The SPY looks like we could get a replay of the 2008 rout, but the averages could turn around as they did in 2010.   Better to wait on the sidelines for a significant sign of an up-trend. The QQQ just entered a new short term down-trend.