The indexes held on Wednesday.   While the GMI is 5, the GMI2 is only 1. IBD sees the market in a correction. I am therefore waiting for the Supreme Court's decision on health care before I commit funds to the long side.   Until then, I am content to remain largely in cash.   The only exceptions are my holdings in ASPS and DDD.   DDD hit another high on Wednesday after announcing some good news about receiving certification of its products for healthcare applications. This news must have been behind the stock's recent strength. Check out the weekly and monthly charts for DDD that I posted on Wednesday morning. ASPS closed Wednesday just below its all-time high of 72.61.
ALXN hit a new high on Wednesday and appears to be breaking from a nice base. Check out this weekly chart.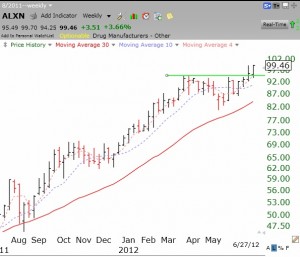 Many of you have asked me if I   might teach them some of the material I teach my students at the university.   Well, AAII has asked me to conduct a workshop in July in Virginia.   Check it out at this link.